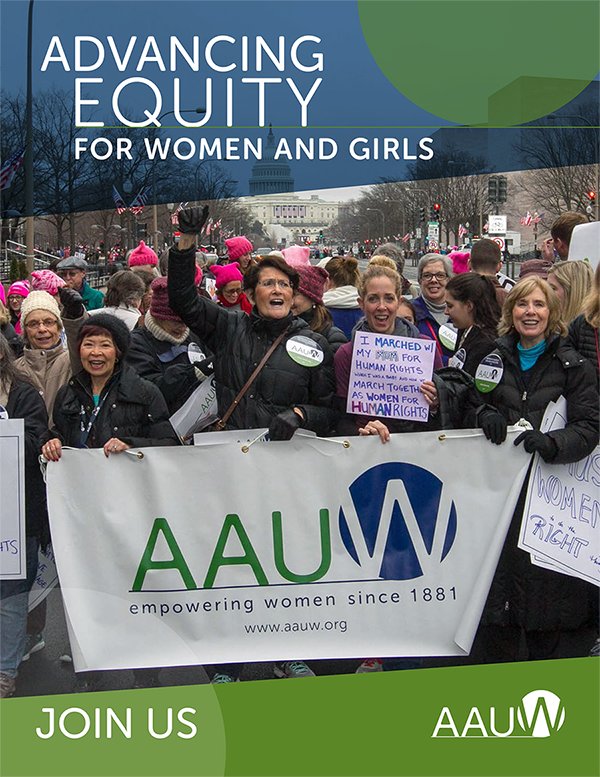 A one-year membership includes membership in the AAUW-Auburn Branch, California AAUW, and National AAUW. Members receive the following publications: AAUW Outlook from our national association; California Perspective from California AAUW; and Branching Out, our Auburn newsletter. Branch members are entitled to vote, hold office, and participate in all Branch interest groups and activities. Click here to open the membership form and join today: MEMBER-FORM
WE EMPOWER WOMEN.  JOIN US.
OUR COLLECTIVE VOICE IS POWERFUL
Nationally, AAUW's 1,000 local branches – and 170,000 members/supporters – make a difference on critical women's issues.
WE ARE A VIBRANT COMMUNITY
Wherever you go, you will find an AAUW community of friends, professional contacts, and a network for personal and professional growth.
WE PROVIDE RELEVANT INFORMATION
AAUW is a trusted source of timely information.  Auburn Branch meetings feature speakers and discussions that inspire and educate.
WE KNOW YOU'RE BUSY
AAUW membership is simple; there are no time commitments, so you can be as involved as you want to be.
Questions?  Contact us at auburnaauw@gmail.com with the subject line "Membership".