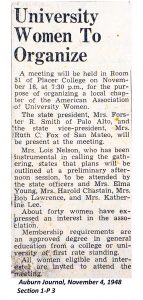 The American Association of University Women (AAUW) Auburn Branch was chartered in April, 1949 as a means of associating with like-educated/like-minded women. Leading the charter membership of 82 women, the first AAUW-Auburn President was Katherine Lee.
The national political and social context during the development of AAUW – Auburn provides insights into what it was like in 1948 and 1949.  World War II had ended only three years before Auburn women started organizing their branch in 1948.  Harry Truman was president. Pulitzer Prizes were awarded for Tales of the South Pacific, James Michener (fiction) and A Streetcar Named Desire, Tennessee Williams (drama).  The term "Cold War" was coined by Bernard Baruch. In April 1949 the North Atlantic Treaty Organization (NATO) was formed.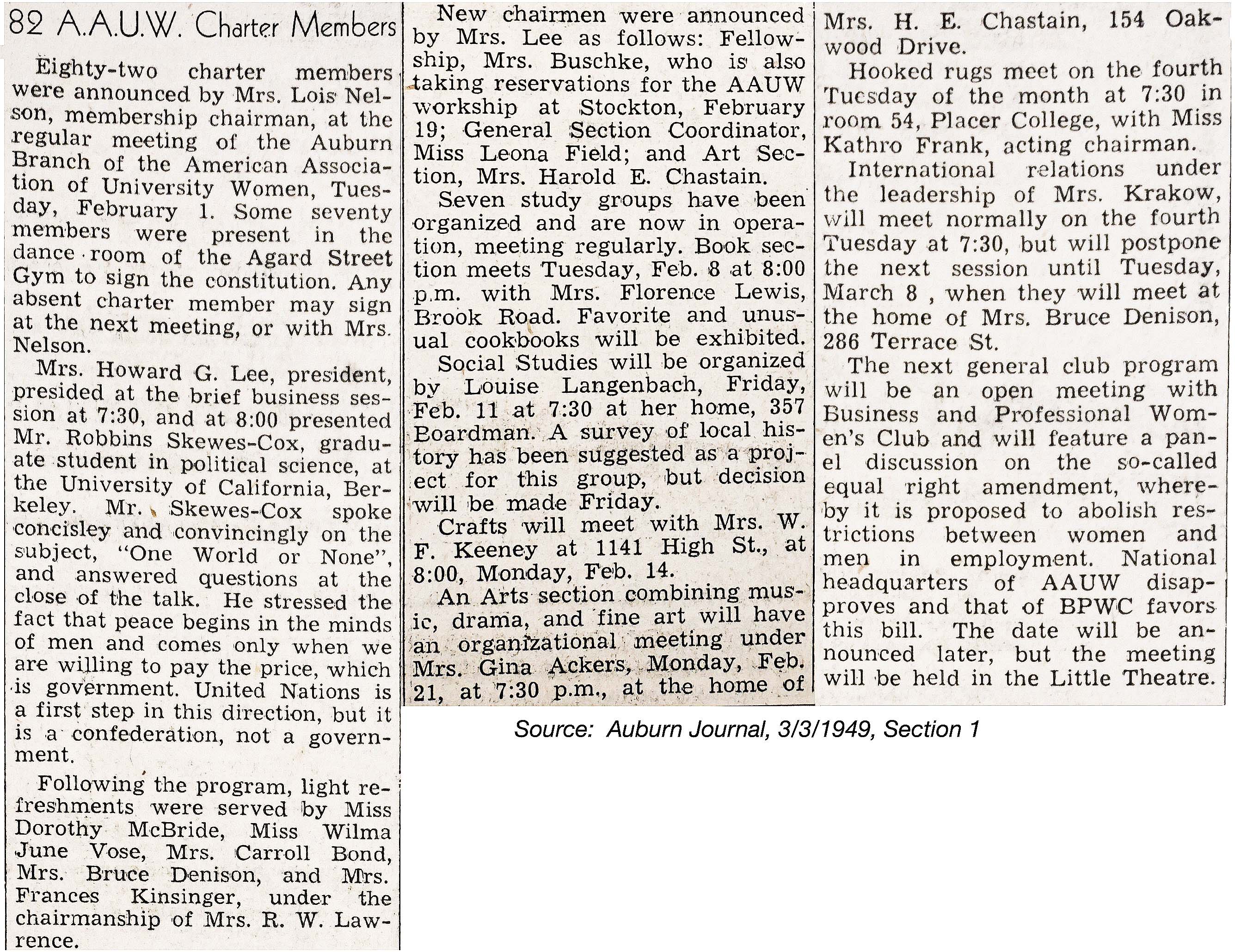 Locally, E.V. Cain opened its school's doors for the first time in December 1949; the Folsom Dam was under construction (completed in 1956); and a first class U.S. postage stamp was 3 cents. A year before the Auburn Branch was chartered, the first girl was elected Placer High School Student Body President, and Auburn celebrated its 100th Anniversary. Additionally, in 1947, Charter members Virginia Akers and Vesta Chastain (second Branch President from 1950-1951) appeared in "Our Town" presented by the Auburn Community Players of the Placer Evening College (which became Sierra College).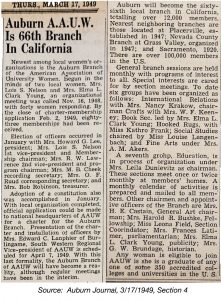 This article from a 1949 Auburn Journal shows what a long history our branch has of providing scholarships for local young women. Think of all the women who have benefitted from our support since 1949 as they worked toward a college degree! What a wonderful history of fulfilling our mission of promoting education for women and girls right here in our community.
We are researching AAUW-Auburn Branch history.  If you would like to share information about our history, send an email to auburnaauw@gmail.com with the subject line "History". Updates will be posted as new information is found.  Visit the AAUW-Auburn Archives page to view more articles and artifacts.